PLEASE REMEMBER TO THANK THIS MONTH'S SPONSOR:



The 14th PhillyFIT BASH
At Cancer Treatment Centers of America, we believe there isn't one way to beat cancer - there are hundreds. For nearly 30 years we've been committed to finding the right combination of personalized treatments for our patients. Together with you and your caregivers, we develop an integrated treatment plan that's right for you. A dedicated team of oncologists, surgeons and other specialists deliver advanced cancer treatment - including safer, more effective radiation therapy, new targeted drug therapies, and minimally invasive surgical alternatives. At the same time, we support you with therapies to boost your immune system, reduce pain and improve quality of life. At CTCA, we never give up. To discuss your treatment options please visit:
www.cancercenter.com
, or call 800-392-7355
TABLE OF CONTENTS

From the Desk of Ellen Fisher, Publisher
HOT OFF THE PRESS!!!! Get Your Copy of the 25th Edition Print Directory
Announcing the 25th Edition Women of Accomplishment
Featured Women's Yellow Pages Business Categories
Women's Business Calendar
Congrats Corner
Thought for the Month
Women-Owned Business Fact
JOIN OUR COMMUNITY
Win a Free Night at a Bed & Breakfast
Subscription - Sponsorship - Advertising - Distribution - Reprint Info

Participate in our discussions on LinkedIn.


Join our group on Facebook
WIN A FREE NIGHT AT A BED & BREAKFAST - - LIKE us on Facebook and you will be entered into a drawing to win a free night at a bed & breakfast.


Follow us on Twitter.


Watch videos on the Women's Yellow Pages You Tube Channel


FROM THE DESK OF ELLEN FISHER, PUBLISHER, WOMEN'S YELLOW PAGES

At our Hats Off to Women in Business Festival we celebrated the launch of the 25th anniversary of the print edition of the Women's Yellow Pages. How exciting it was to honor all local women in business while indulging in a smorgasbord of networking and great food. In keeping with the celebration, I thought it would be fun to answer some of the questions we typically pose to our Women of Accomplishment. (See the right margin for links to the inspiring, motivating, and informative profiles of this year's Women.) Here are my answers from the point of view of the Women's Yellow Pages office. I hope you enjoy this peek into the inner workings of 25 years of promoting women in business.

What do you do for balance or stress relief at the WYP office? Over the years we have dipped our arms in hot wax, put heated rocks on our shoulders, applied facial masks, and practiced foot reflexology...all while making phone calls!

Share a guilty pleasure. Elaborate lunches. We start talking about lunch before 11 am and by the time we set the table at 1 pm, the menu has grown to epic proportions. My gourmet leftovers are often the centerpiece.

Who/what inspires you? We have funny quotes on the office walls as well as photos of some famous feminists. It's easy to keep your eyes on the prize when Gloria Steinem and Betty Friedan are staring down at you.

Where was WYP started? In a 2-story walk-up above a framing store (now Avenue Art & Framing, a 25-year advertiser) in the Fairmount section of Philadelphia. I still use the same desk I created from a door.

What are you most proud of? Raising 2 wonderful children (now adults) while running the business from the attic room of my home. And that my employees are like family. In the old days they often drove my kids to after-school activities.

Share a little known fact about Women's Yellow Pages. We have a tabletop fountain in our supply closet to remedy a Feng Shui faux pas.

Describe a defining moment at WYP. It used to take 3 days to manually compile the index for the print directory. When we got our first computer it took 4 hours. At that moment I vowed to always stay ahead of the technology curve. By the way, it now takes about 1 minute.

What do you do for a good laugh? Most days you can count on at least one good belly laugh. Often it's from trying out Bonnie's (our eZine editor) game inventions. I will never forget the day we played something based on Jacks. On my turn, little cubes went flying all over the office; some are still MIA.

What about Women's Yellow Pages is most rewarding? Every single day we assist, talk with, and promote the most fascinating, influential, and accomplished sector of the business world - women. It's a dream-come-true job.

I'd like to close with a huge, virtual hug of thanks to everyone who has been a part of the Women's Yellow Pages over its first 25 editions along with a million actual hugs to Bonnie Neubauer, without whom WYP would not have been nearly as fun or successful.

I may be the face (and hat) that are recognized, but it's your smiling, hard-working, accomplished smiles that motivate me every day. I tip my hat to all of you.

Ellen Fisher, Founder and Publisher who was hard to find at the Festival because almost everyone wore a hat!

GET YOUR COPY OF THE 25th EDITION OF THE PRINT DIRECTORY!

HOT OFF THE PRESS!!!!!! The 25th Anniversary Edition of the print directory is full of hundreds of women-owned businesses and wonderful resources.



Click here and you will be taken to a list of locations where you can pick up your very own copy - for free.

GO GREEN! The online directory, www.philawyp.com, is updated year-round and available for searching 24/7.

ANNOUNCING THE 25th ANNIVERSARY EDITION'S WOMEN OF ACCOMPLISHMENT

The 26 outstanding women pictured on the cover of the 25th Anniversary Edition are this year's Women of Accomplishment. They are at different stages of their careers and work in diverse fields, yet all share the vital trait of being impassioned leaders. In their profiles you will read about their inspiring paths to success, discover their unique insights and perspectives, and learn some of their motivaltional leadership tips. These exceptional women embody the word ACCOMPLISHMENT and it is our honor to present them to you. (Individual links to their profiles are in the righthand margin or you can go to the Women of Accomplishment Overview page to access all 26 at once.)

WHY 26 WOMEN? Just like candles on a cake - one for each year of the directory and one for good luck!

FEATURED WOMEN'S YELLOW PAGES BUSINESS CATEGORIES

Please remember to tell her you found her in the Women's Yellow Pages!





WOMEN'S BUSINESS CALENDAR

Grow your business, meet new prospects, expand your network... Attend an event featured in the Women's Business Calendar.

Click here to access the calendar. If you already use Google Calendars you can add the events from the Women's Yellow Pages calendar to your personal calendar with the click of a button. And, you can even choose a weekly, monthly, or agenda view.


CONGRATS CORNER
Congrats to...

The Women's Yellow Pages 25th Edition Women of Accomplishment See individual links in the right-hand margin.

Anne Klein, Anne Klein Communications Group, for winning at least four awards for four straight years at the annual Pepperpot and Achievement Awards sponsored by the Philadelphia chapter of the Public Relations Society of America.

Debra Malinics, Debra Malinics Advertising, for celebrating its 35th year in business and for being featured in an article in the Chestnut Hill Local.

Kim Landry, Hollister Creative, for relocating her office to Bryn Mawr, PA.

Laura Kasper, Monarch Staffing, for being honored with the Spirit of Excellence Award from Delaware County Women's Commission.

Iola Harper, The Enterprise Center/IGC, for winning NAACP's 104 Influential Black Women in Philadelphia 2013 Award.


(Attention Women's Yellow Pages advertisers: Please send your accolades to congrats@philawyp.com.)
THOUGHT FOR THE MONTH
"Just go out there and do what you've got to do." ~ Martina Navratilova
WOMEN-OWNED BUSINESS FACT
FACT: The industries with the fastest growth and greatest share of women-owned firms are educational services, health care and social assistance, and entertainment and recreation.

~Fact brought to you by American Express OPEN.
JOIN THE WOMEN'S YELLOW PAGES COMMUNITY
If you are a woman-owned business or a business for whom women are your top clients/customers, you need to be in the 25th Anniversary Edition of the Women's Yellow Pages!! Let us spread the word for you; we are the next best thing to word-of-mouth advertising. Businesses in the Women's Yellow Pages are seen as offering a higher quality of customer service than other companies. If this describes your company, let the community know. Advertising rates are really affordable and include being in both the print and online (www.philawyp.com) directories.So what are you waiting for? Don't let your competitors get the business intended for you. Call or email today: 610-446-4747, info@philawyp.com. We will even design your online ad for free so you can take advantage of the website's 135,000 hits per month. Looking forward to having you as part of our wonderful community.
WIN A FREE NIGHT AT A BED & BREAKFAST
LIKE US on Facebook and you will be entered into a drawing to win a free night at a local bed & breakfast.


While you're in a social networking frame-of-mind, please participate in our discussions on LinkedIn, too!

FYI: Past eZines are available for your browsing pleaseure by clicking here:eZine Library

SUBSCRIPTION - SPONSORSHIP - ADVERTISING - DISTRIBUTION - REPRINT INFO

SUBSCRIBE to Connect: Send an email to subscribe@philawyp.com with subject SUBSCRIBE.

UNSUBSCRIBE from Connect: Send an email to unsubscribe@philawyp.com with the subject UNSUBSCRIBE.

ADVERTISE in the Women's Yellow Pages, print and/or online: Call 610-446-4747 or send an email to rates@philawyp.com.

DISTRIBUTE the Women's Yellow Pages print directory at your place of business or hand it out at an event: Call 610-446-4747 or send an email to distribute@philawyp.com.

SPONSOR an issue of Connect: Call 610-446-4747 or email efisher@philawyp.com.

REPRINT permission: Please call 610-446-4747.

Women's Yellow Pages
P.O. Box 1002, Havertown, PA 19083
www.philawyp.com
610-446-4747

(C) 2012 Women's Yellow Pages.

THANK YOU FOR READING - CONTACT INFO

Thanks for reading Connect, The Women's Yellow Pages eZine. If you enjoyed it, please forward it on to your friends and colleagues or share it via this link with your social networking friends and associates. We value your input; please stay in touch.

Regards,
Ellen Fisher, Publisher and Bonnie Neubauer, eZine Editor
efisher@philawyp.com

Women's Yellow Pages Contact Info:
Phone: 610-446-4747
Fax: 610-853-6353
Mailing Address: PO Box 1002, Havertown, PA 19083
Website: www.philawyp.com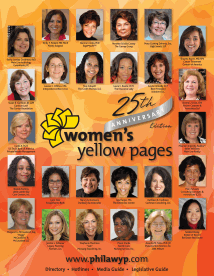 Meet the 25th Edition's
Women of Accomplishment

These exceptional women embody the word ACCOMPLISHMENT and it is our honor to present them to you.

Lynda K. Byrd
US Trust, Bank of America Private Wealth Management

Nanette Carney
The Carney Group

Kathleen Cashman
Cashman Consulting, LLC

Sokki Choing
Red Door Real Estate

Mavis Clarke
Gentle Care Nursing Service, Inc.

Tara Colquitt
The Credit Woman, LLC

Kayte Connelly
Best Principled Solutions, LLC

Glenna Crooks
Sage My Life

Mary Cushing Doherty
High Schwartz LLP

Nancy Dunleavy
Dunleavy & Associates

Stephanie Fleetman
Mustang Expediting, Inc.

Brenda Fontroy
Little Lambs Day Care Centers, Inc.

Susan Garrison
Garrison Law/The Center Foundation

Iola Harper
Acceleration Group

Maureen Ingelsby
Keller Williams Main Line Realty

Shayma Kazmi
Cancer Treatment Centers of America

Kathy Landau Goodman
Main Line Audiology Consultants

Margaret McCausland
McCausland and McCausland, LLC

Lauren O'Brien
Independence Blue Cross

Lynn Ozer
Susquehanna Bank

Emily Pollard
Plastic Surgeon

Laura Roane
The Insurance Lady

Mary Scheetz
Consulting Concepts and Innovations

Annette Tobia
Dynmis Skin Science, Inc.

Donna Urian
Cunnane and Associates, Ltd.